Includes claims for HSBC Life plans such as death, major illnesses, VHIS pre-authorisation and medical claim, disability, hospital cash, unemployment, and HSBC One cancer coverage
Includes claims for AXA plans, such as travel, accident and health, home and domestic helper, mortgage, and motor
Submit a claim for your life insurance plan in 3 simple steps
Step 1: Prepare claim materials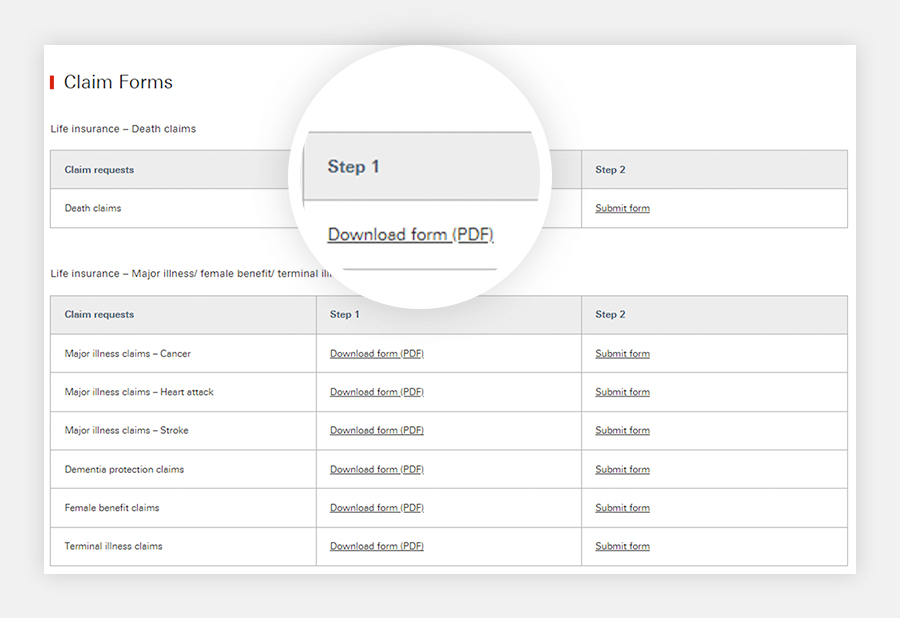 First, download and complete the relevant forms below and prepare supporting documents (if any)
Step 2: Submit claim request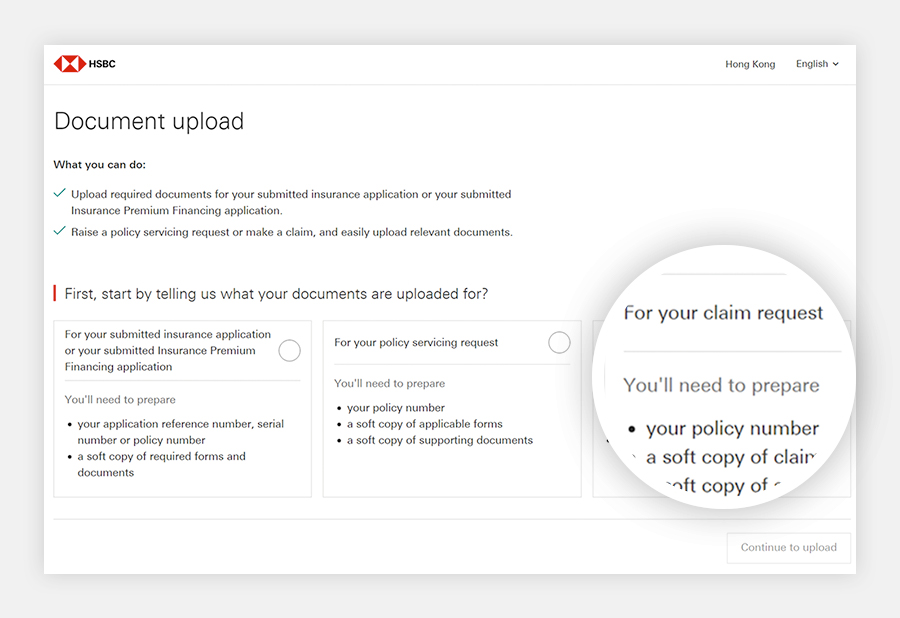 You can submit the completed forms and supporting documents in any of the following ways:
Drop them off at one of our branches
Send all the forms and documents by mail to: 18/F, Tower 1, HSBC Centre, 1 Sham Mong Road, Kowloon, Hong Kong
Step 3: Stay updated on claim or payment status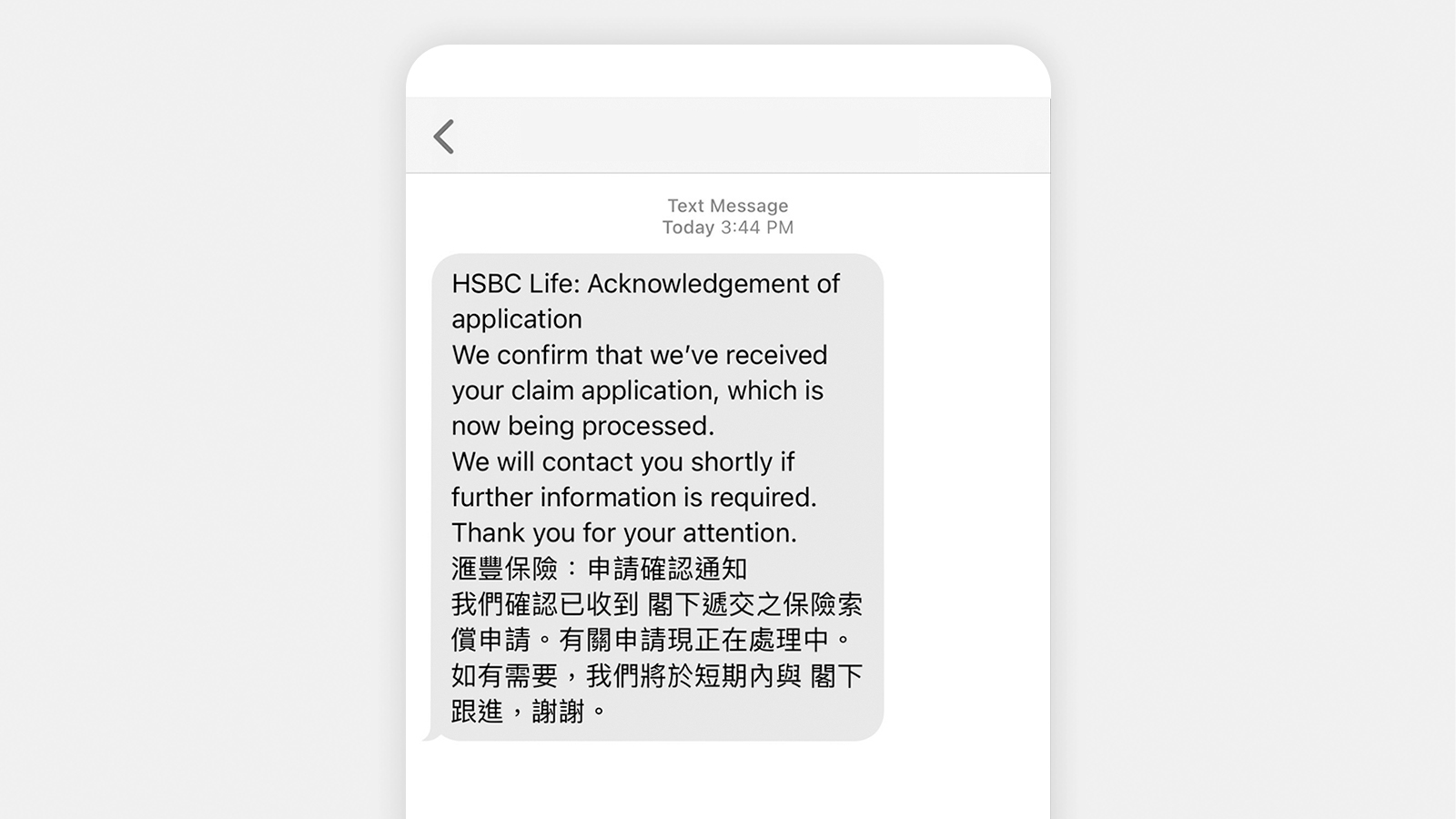 We'll send you an SMS once we've received your claim request. While we assess your claim, our Claims Servicing Specialists will keep you posted on the status.
Once approved, we'll issue the payment via payment method of your choice within an average of 2 business days[@insurance-time-taken-payment].
Need assistance for your life insurance claim?
Call us and get personalised assistance from our Claims Servicing Specialists and VHIS Medical Concierge Consultants for:
making medical appointments
help with claim related documentation and progress status update
following up with doctors on required supporting documents (if applicable)
HSBC Life Claims Hotline:
Lines are open 9:00am to 6:00pm, Monday to Friday, except Saturday, Sunday and public holidays
Worldwide Emergency Assistance Service for VHIS 24/7 Hotline:
What documents do I need to submit to make a claim?
How can I follow up on the claim if I am currently unable to collect the above death documents?
Who will receive the payout of a death claim?
How do I check the status of my claims?
For VHIS claims, can I request to obtain Certified True Copy(ies) of original invoice(s) and receipt(s) after claim processing?
Submit a claim online
Use our online claims notification facility[@insurance-axa-online-claim] to notify AXA of your claim immediately, even during busy periods (such as after adverse weather).
Need assistance?
Personal General and Medical Insurance (AXA)
Lines are open 9:00am to 5:30pm, Mondays to Fridays, and 9:00am to 1:00pm on Saturdays, except public holidays.
The hotline is operated by AXA or its authorised representatives.
24/7 General Insurance hotlines
Disclaimer
Life insurance policies are underwritten by HSBC Life (International) Limited ("HSBC Life") which is authorised and regulated by the Insurance Authority ("IA") to carry on long-term insurance business in the Hong Kong SAR. HSBC Life is incorporated in Bermuda with limited liability, and is one of the HSBC Group's insurance underwriting subsidiaries. Policyholders are subject to the credit risk of HSBC Life and early surrender loss.
General insurance products are underwritten by AXA General Insurance Hong Kong Limited ("AXA"), which is authorised and regulated by the Insurance Authority of the Hong Kong SAR.
The Hongkong and Shanghai Banking Corporation Limited ('HSBC') is registered in accordance with the Insurance Ordinance (Cap. 41 of the Laws of Hong Kong) as an agency of HSBC Life for the distribution of life insurance products and AXA for distribution of general insurance products in the Hong Kong Special Administrative Region. These products are products of HSBC Life and AXA but not HSBC and they are intended only for sale in the Hong Kong SAR.
In respect of an eligible dispute (as defined in the Terms of Reference for the Financial Dispute Resolution Centre in relation to the Financial Dispute Resolution Scheme) arising between HSBC and you out of the selling process or processing of the related transaction, HSBC is required to enter into a Financial Dispute Resolution Scheme process with you; however, any dispute over the contractual terms of the above insurance product should be resolved between HSBC Life or AXA and you directly.